Egg Grader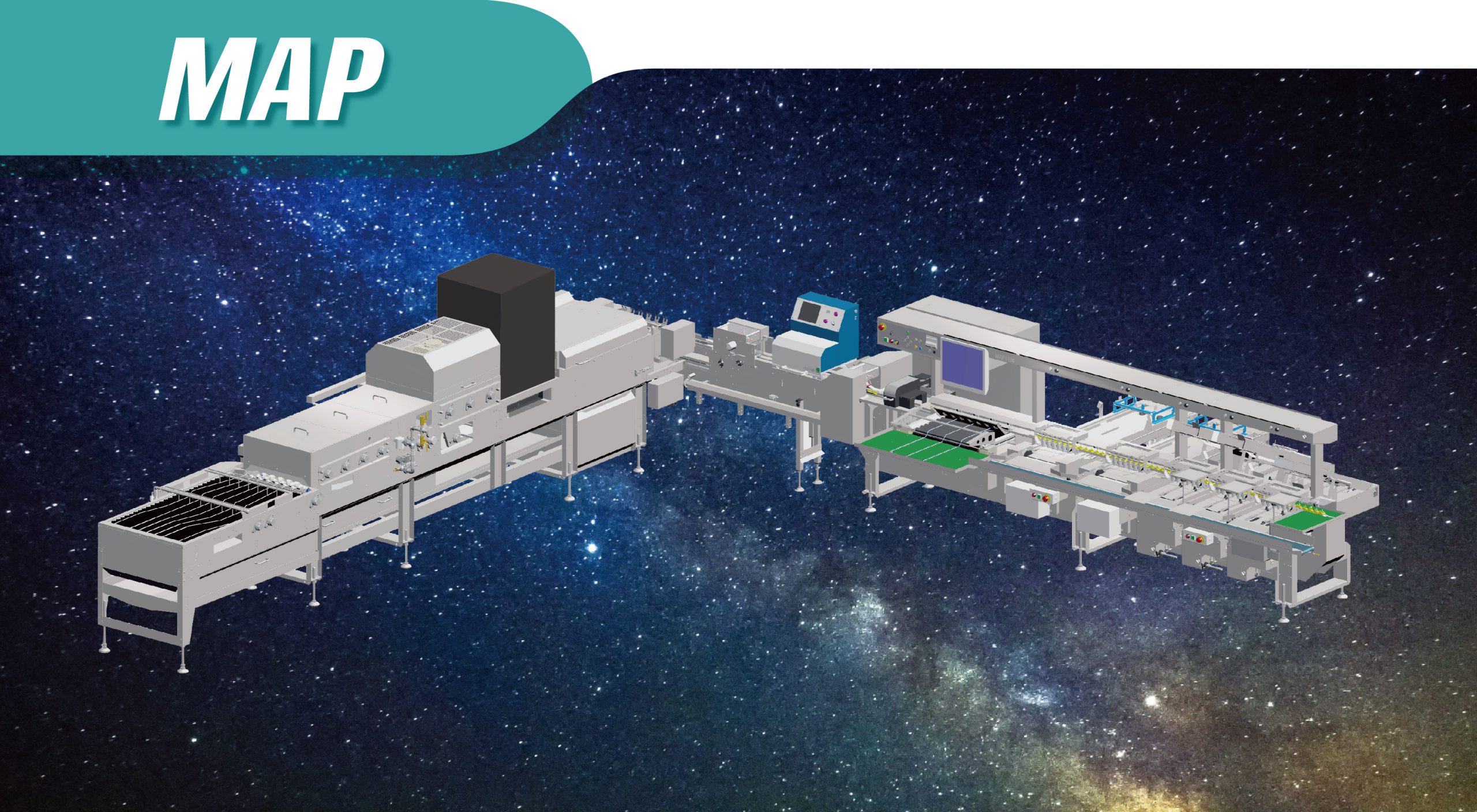 Compact grader for small-quantity, high-mix production
Despite its compact design, it can handle various egg cartons. This grader is ideal for the packing centers that require flexible packing style.
Features
High in Quality, Small in Capacity
The reliable technologies, such as stainless-steel design, brush-washing style in hot water, make it possible to produce the incomparably safest eggs in the world. Also, the design of the egg grader MAP1100 allows operators to stay front side only. This makes the difference from the past models and it is unnecessary anymore to take a long way to the back side to change settings or packages on packing lanes. A heavy hand lifter sucking up 30 eggs is unnecessary anymore as well because all the packing process is automated. While being compact, the egg grader MAP1100 is equipped with sufficient functions to be friendly to operators and to eggs. NABEL recommends with confidence, as it surely meets your demands.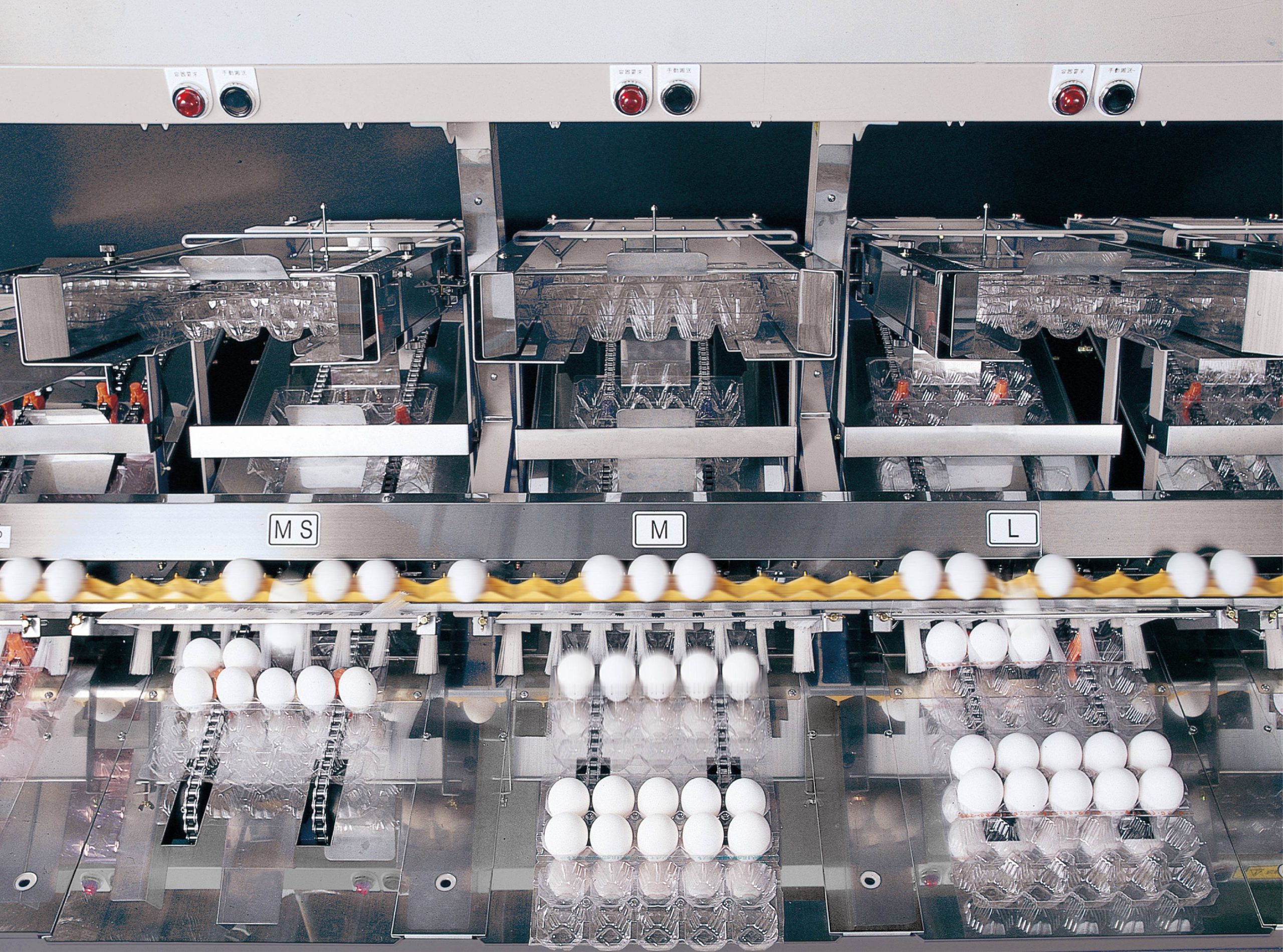 Egg Washing System: Highest Hygiene Standards
It is generally known that egg washing in hot water bath is much better than that with cold shower. NABEL's premium egg washing and drying technologies are now available in the small egg grader, MAP1100. The bath-style washing technologies satisfy all the requirements in Japan where people demand the highest quality of hygiene as they eat raw eggs every day. Besides, cleaning after operation is fast and easy, which leads to reliable and food-safe production.
No More Hand Lifters nor Manual Packings
Small egg grading machines generally force operators to pack eggs manually or to use heavy hand lifters and make them tired very soon. NABEL focused on the heavy manual labors in packing and make MAP1100 a small but an automated egg grader.
MAP1100 fill the eggs into the designated packages and carry the filled packages to the front, automatically. Besides, front operation style let operators supply or change packages from the front side. Operators do not have to go around to the back side to change settings or packages on packing lanes.
The user-friendly egg grader MAP1100 won't make operators feel tired as they used to. Automatic operations without waste of time and manual labor will enhance efficiency.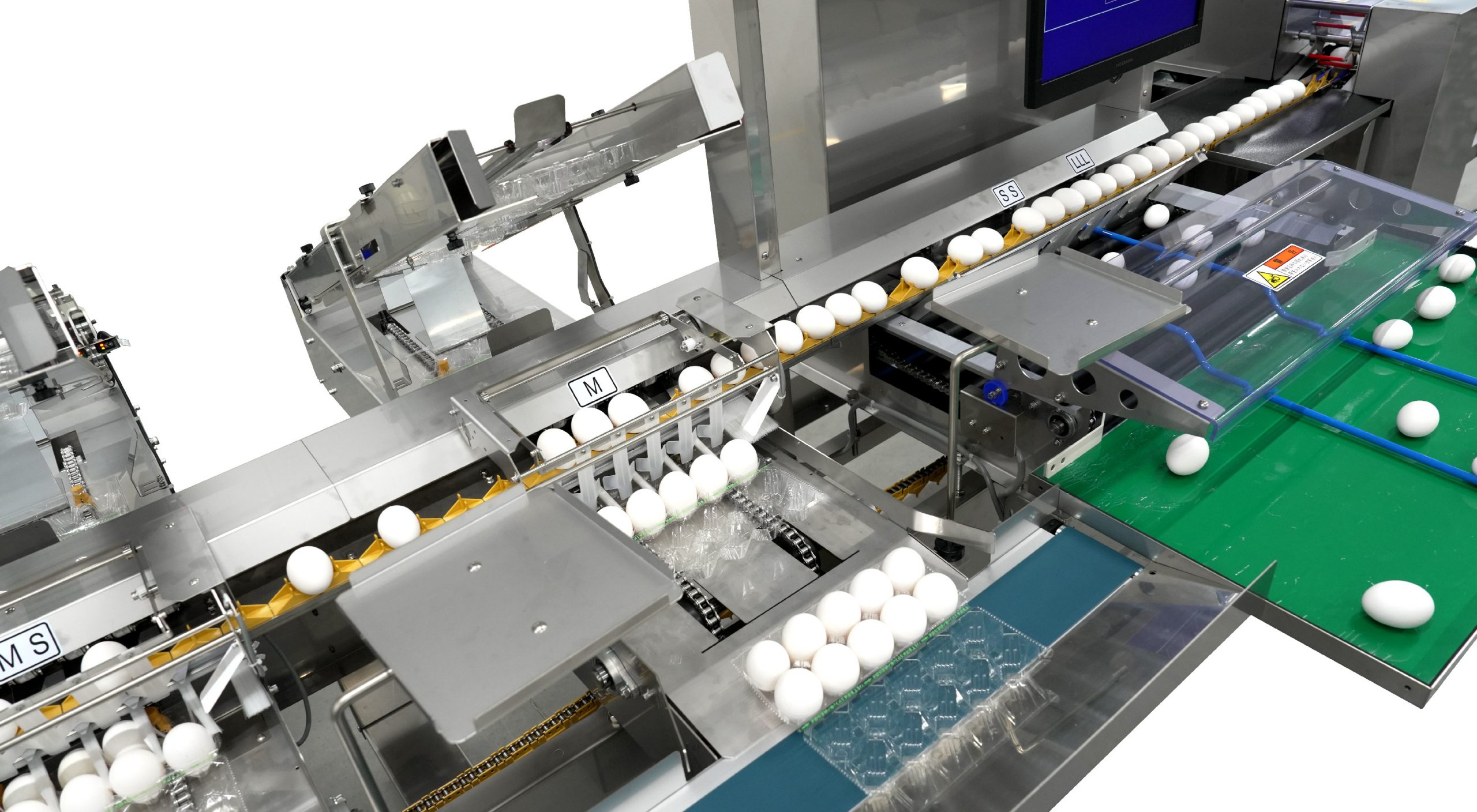 Compact Design
The compact grader frame only needs 24.5m2 to place and it has 2 alternative frame type: L and straight type. Customers can choose the frame type which meet their own requirements. The fully functional yet compact egg grader perfectly fits to small rooms as well as to big rooms.
Reliable Weighers
The accuracy of the weighers is the most important key in egg grading. NABEL uses load cell weighers on all the egg graders and achieve the reliable weighing in 0.1g. The weighers are water washable after putting rubber caps on top.
Simple Displays
Simple input keys support easy and smooth operation. When you want to change the grading pattern, just press a button and the grader will do the rest. Operation monitor displays grading information; such as number of eggs, weight of eggs, and grade distribution. The printed data on paper helps managers check the day's results of egg grading.
Specifications
Optional Equipment
※Designs and specifications are subject to change without notice.